Take it or leave it, deciding on the best hose to buy is a very perplexing decision. Of course, there are a plethora of different types of hose reels out there in the market. Hose reels vary in many ways, and you will surely make the worst decision if you decide to buy the first hose reel you see. 
Hose reels are specially crafted to meet unique needs, and it is quite pertinent that you research the market to know the needs and purpose that every hose reel was designed to meet. This article has it all, as it will highlight the essential things to consider when buying a hose reel. You can decide to purchase industrial hose reels, spring retractable hose reels, or custom hose reels. It depends upon your requirement and purpose. Read this post to know what to consider before selecting a hose reel.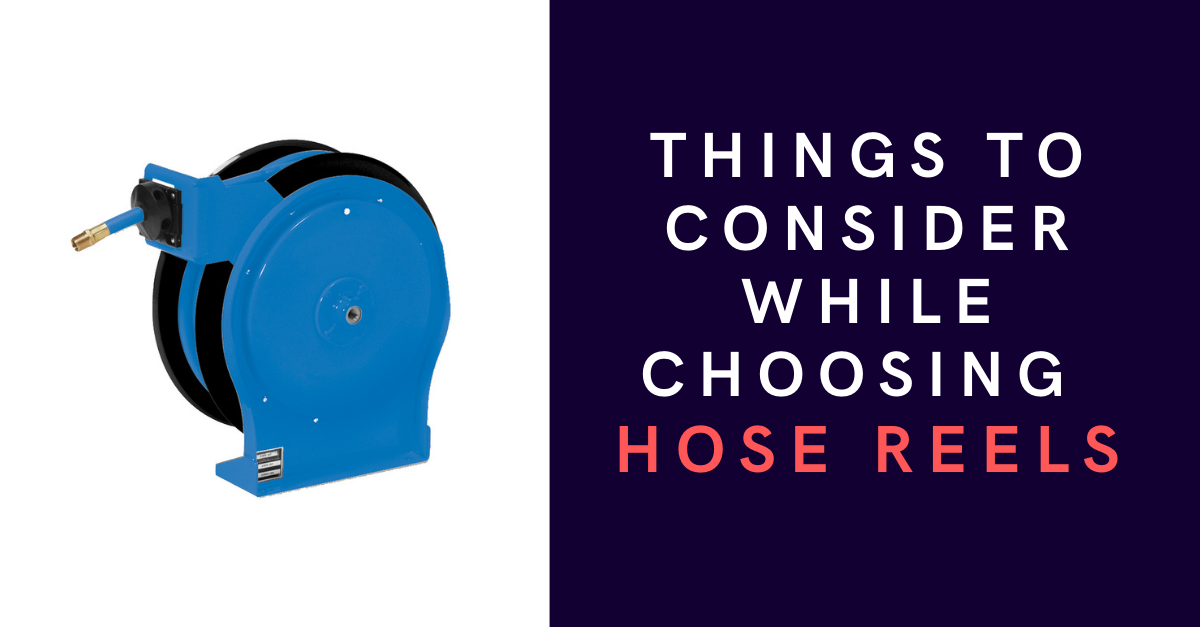 1. Length & Size of Hose Reels
The area of your garden will determine the size of the hose reels. In case you have a more extensive garden, you'll need a more extended hose reel to spray water in the farther corners. A small area will require a small hose reel. 
Measuring your garden size is a good idea before buying a hose reel. It will help make the right choice. You can read the description carefully to know the length and size of the hose reel you have finalized. If you choose the wrong size, you'll end up in frustration. Here is the kicker! The size and length of the hose reel matter a great deal.
Before buying a hose, you must probe and know whether the length of the hose will be commensurate with your hose reel. You would probably use your hose reel daily to water your garden, so it is pertinent to go for a hose that is not too short. More so, it should not be too long so that you would be able to wind it properly. 
2. Purpose of the reel being used for
The hose reel manufacturers make the products for various purposes. You must have a clear idea about where to use the hose reel before finally making a purchase. The aim is going to determine the type of hose reel you should own. It can be used in commercial and residential areas to provide fluid, air, water, oil, or fuel. Food processing units, breweries, outdoor parks, and factories require unique and more durable hose reels. Home gardens can have simpler versions that are not so professional and easy-to-operate. Consider the purpose. 
3. Type of Hose Reels 
Hose Reels come in various types. Some are suitable for small home gardens, while others are perfect for the more extensive lawns. Some are automatic, and others work through manual systems. You should have useful information about the type of hose reel to make sure you're buying the right one.
Spring Hose Reels Spring hose reels have a locking ratchet. It allows us to take out the hose to the required length. It gets locked at that point. So, it's simple to use. Such types of hose reels are more convenient. It's because they don't require any power source to operate.
A) Manual Hose Reels 
As the name suggests, these are manually operated. They are relatively easy to use because they don't need any source of power. Their price is also lower than the automatic versions. Everyone can use the manual hose reels for hoses with grease, oil, anti-freeze, water, and air at low pressure. 
B) Motor Rewind Hose Reels 
The hose reels manufacturers create various types to suit different requirements. The Motor Rewind Hose Reels have a motor installed externally. These are perfect to use for anti-freeze, oil, grease, water, and compressed air supply. They have a high-frequency transmitter. The remote control is also included. 
C) Custom Hose Reels
It's a fact that every owner loves having a Hose Reel customized to his specific needs and preferences. It comes with many added benefits. Why not ask the manufacturers to offer a hose reel that is custom and works perfectly in your garden, factory, and other areas.
Final Tips 
The hose reels manufacturers have designed many versions of the Hose Reels. You should consider the size, length, purpose of use, and other factors before buying the right product for your lawn or commercial unit. Consulting an expert can be helpful. Choose one that fits your needs.