ReCoila manufactures three main types of hose reels – small industrial polypropylene reels, heavy duty steel reels, and completely custom made reels. We also import high quality steel spring rewind and stainless steel hose reels, as well as constant tension reels for use with automation equipment. 


There are a few things to consider to narrow down the choice of reels to choose from. You'll most likely know what you will be transferring - air, water, grease, etc - and in addition, you'll need to size the reel according to the inside diameter (ID) of the hose you will be using.


Consider the length of the hose you'll need based upon the placement of hose in the work area. Note that the longer the hose, the greater the possibility of pressure loss. What kind of construction material will you need? Will polypropylene be adequate or do you need a heavy duty steel reel? You might like to consider stainless steel if corrosion will be a factor.


Of course, these recommendations are just a guide - if you're not sure, or would just rather talk to our technical staff, please feel free to give us a call and together we can find the best reel for your application. 


POLYPROPYLENE REELS
We have two series of spring rewind polypropylene reels – Gen III and Gen IV.
GEN III SERIES HOSE REELS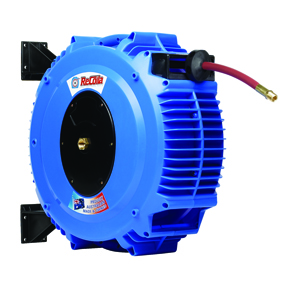 ReCoila's Gen III engineered composite polypropylene reels are best-sellers for a reason – they're tough, reliable, functional and durable. With nearly twenty different application-specific models, each with a range of hose sizes and lengths, there's sure to be a reel to suit your application. The Gen III Series is ideal for a wide range of industrial applications. Choose this reel if:
STEEL REELS
ReCoila manufactures five types of hose reels in our core steel range – the C Series, T Series, ST Series, J Series and RF Series. Steel reels are generally supplied without hose, however we can provide hose if required.
C SERIES STEEL HOSE REELS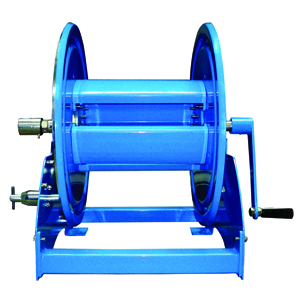 ReCoila C Series hose reels are ideally suited for a variety of applications. This simple but tough hose reel will handle a multitude of hose sizes, lengths and pressures. The C Series is a basic modular hose reel commonly used for refueling, water, high volume compressed air, and a range of other fluids. ReCoila C Series reels can be supplied as hand crank, bevel crank, electric, pneumatic or hydraulic rewind. Choose this reel if:
T SERIES HEAVY DUTY STEEL HOSE REELS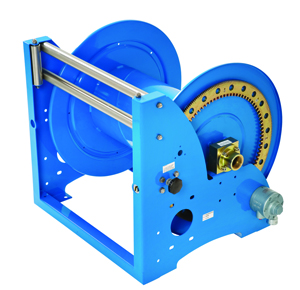 The T Series is one of our best selling steel reels, fabricated from heavy gauge 3mm steel plate to ensure rigidity and strength. High flow swivels and fluid paths ensure optimum flow, and a heavy duty spool and stainless steel main axle resist corrosion and damage. The T Series has been developed with a modular frame and spool configuration that works with a wide range of add-ons, resulting in a reel that is customised to your particular application.
Particularly suited to lubrication, watering, fuel transfer, high volume compressed air, food transfer, firefighting and more, the T Series can be supplied as hand crank, bevel crank, electric, pneumatic or hydraulic rewind. Choose this reel if:
ST SERIES SPRING STEEL HOSE REELS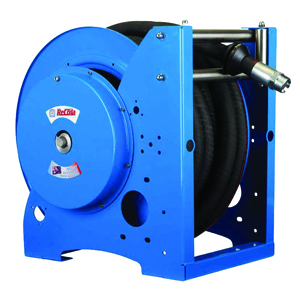 ReCoila's ST Series heavy duty hose reels feature an external spring canister for easy maintenance, high flow swivels and fluid paths, stainless steel roller guides with ball bearings, a positive latching system and heavy duty roll spun flanges. The ST Series is available as spring rewind only. Choose this reel if:
J SERIES JETTING HOSE REELS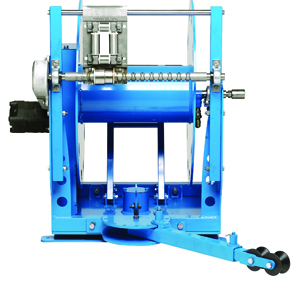 These reels are specifically designed for jetting purposes and are constructed using a base design coupled with add-ons to produce a reel to suit your individual application. Choose this reel if:
RF SERIES CUSTOMISED HOSE REELS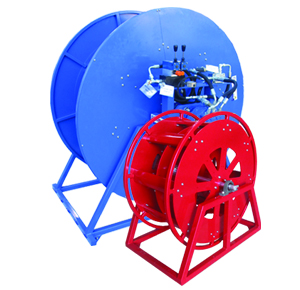 This reel is a typical hose reel shape, with a simple triangular base and (usually) an open spool sitting on top. You can see a few of these in our custom reel gallery. The RF Series covers any custom made reel with this basic configuration and is typically used for storage, offshore refuelling, watering, aquaculture, electricity providers and more. The RF Series reels are custom made to your specs – please complete our quote request form to enable us to quote on a reel to suit your individual job. Choose this reel if:
STEEL AND STAINLESS STEEL SPRING REWIND REELS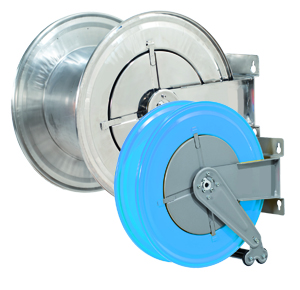 ReCoila's range of steel spring rewind reels and stainless steel spring rewind reels covers a wide range of hose sizes, lengths and pressures and is mostly suitable for air, water (hot / cold / high pressure), oil, grease and some chemicals. We also have steel spring rewind hose reels for welding, cutting, static discharge and other special purpose reels. The stainless steel range is most suited to hygienic environments and covers small to large hose diameters and short to long lengths. Choose these reels if: 


CONSTANT TENSION HOSE AND CABLE REELS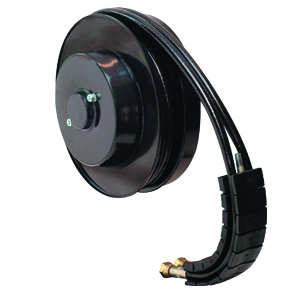 ReCoila's range of automation reels are specifically designed to supply hydraulic oil from fixed to moving points on cranes, truck mounted cranes, forklift trucks and other materials handling equipment. These are specialist reels available in a wide range of configurations with up to 6 hoses, with or without cable, in a variety of lengths and pressures. Choose these reels if: 


COMPLETELY CUSTOM MADE REELS
If you can't find a reel in our standard range that fits the bill, we can custom design a reel to suit your needs. The possibilities are near limitless - take a look at our engineering capabilities and our custom hose reel gallery. Contact our team to discuss your requirements, or to get the ball rolling you can complete our custom reel quotation form and we'll get back to you ASAP.