Electric hose reels are a category of popular necessary and industrial hose reels. The electric hose reels have hose reels that function with the use of an electrical mechanism. This electronic mechanism works to rewind the chords through a mechanical or manual process. What this means is that the reel has an electric motor for hose rewind functions. The electrical coils get used to store, organize, and keep the tube tangle-free properly and within reach.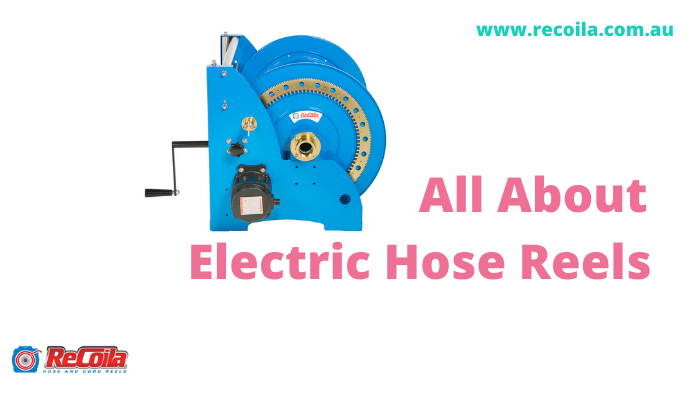 Mechanism of the Electric Hose Reel
An electric hose reel is a type of hose reel that uses an electrical method to retract the hose after use. It is among the commercially available motor driven reels – the others being the automatic and the manual hose reel.
Primary Categories of the Electric Hose Reels
Based on the specification of hose reel manufacturers, there are three main categories of hose reels. These are the heavy-duty steel reels, the completely custom-made reels, and the small industrial polypropylene reels. There are also existing imported premium quality stainless steel and steel spring rewind hose reels and constant tension reels for automated equipment.
The Different Types of Electric Hose Reels
1). Polypropylene Reels
These types of electric motor operated hose reels are of two major categories, Gen 3 and Gen 4. The Gen 3 electric powered hose reels are durable, reliable, robust, and very versatile. It can get used in almost twenty various applications. These types of hose reels get used for a broad range of industrial uses.
2). Steel Reels
In terms of electric steel reels, there are five primary types within this range. The electrical steel reels typically get delivered without the hoses. However, customers can get the tube if they need it.
The C Series: Ideal for numerous uses, this electric reel can withstand different hose lengths, pressures, and pressures. It is excellent for water, refueling, and a high volume of compressed air and other types of fluids.
T Series: This electric reel comes with high strength and rigidity. It has unique qualities that ensure that fluid flows at optimum conditions. It has properties to resist damage and corrosion. The T-series gets custom configuration to the preferences of the customer. It is suitable for food transfer, fuel transfer, firefighting, food transfer, watering, and lubrication.
ST Series: The ST series come with heavy-duty industrial hose reels, which an outer spring canister. The reels are easy to maintain with other essential features, ensuring the flow of fluid at optimal conditions. This reel type comes only in the electric spring rewind.
J Series: The J Series is fabricated, especially to jet. They get manufactured with a base design infused with attachments to create a reel that can be suited to various applications.
RF Series: These types of reels come with the standard hose reel shape. The RF series is ideal for storage purposes, offshore refueling, aquaculture, electric providers, watering, and other purposes. The RF Series are reels that can be custom-made according to the specifications of customers.
The Stainless Steel and Steel Spring Rewind Reels
These varieties of heavy-duty spindles come in various hose pressures, lengths, and sizes. The category of a coil is beneficial for chemicals, oil grease, water, and air. They can get used for static discharge, welding, cutting, and other specialized reels. This range of electrically powered hose reel products is ideal for hygienic environments.
Conclusion
Electric hose reels are essential types of hose reels with extensive applications. Due to the ease in which the hose can be rewind, they get used in the mining, firefighting, the food industry, and the oil and gas industry.